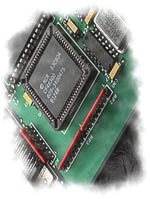 TECHLINE is Engineering Design Services firm providing general Digital Electronics Design and development. We provide an array of services to support your engineering design needs.
TECHLINE's Flagship service is the design and development of Field programmable Gate Arrays. We specialize in all major device manufacturers including Altera, Xilinx, Lattice, and Atmel. Our specialty is high integration System on a Chip designs. We can provide custom IP to replace obsolete circuitry, increase integration, density and speed, and reduce system costs.

TECHLINE has extensive experience in DSP and Micro-Controller based Embedded control hardware and software design and development.

TECHLINE can take a design from concept to paper to product realization. We are experienced and knowledgeable in the myriad of design issues facing layout of high speed circuitry. For prototypes and small runs, TECHLINE can deliver bare boards or complete assemblies.

TECHLINE offers an array of specialty niche engineering design services. Outsourcing certain elements of the design cycle can lower your overall project development costs .